By the sea is where we smile, relax and live in the moment. By the sea is where all our dreams come true. The connection to the transformative power of the deep blue is best felt with a visit to one of Mallorca's beautiful and secluded coves, which open your eyes to the wonders of the natural world. And while there are so many 'Calas' to choose from on this island, there are some that have captivated our heart's and claim a spot there till this day. Now, we're excited to share our favourite coves with you, our guests, so that you can experience their magic for yourself and fall in love with Mallorca all over again.
A paradise nestled in the Tramuntana mountains – Sa Calobra
Spectacular doesn't quite cut it when trying to describe this beach. In fact, there are few words in the English dictionary that convey the immense beauty of this place.
Situated at the foot of a snaking road that has featured in many a cycling magazine, the beach of Sa Calobra is surrounded on all sides by towering cliffs, which connect the UNESCO World Heritage Serra de Tramuntana mountain range to the sea.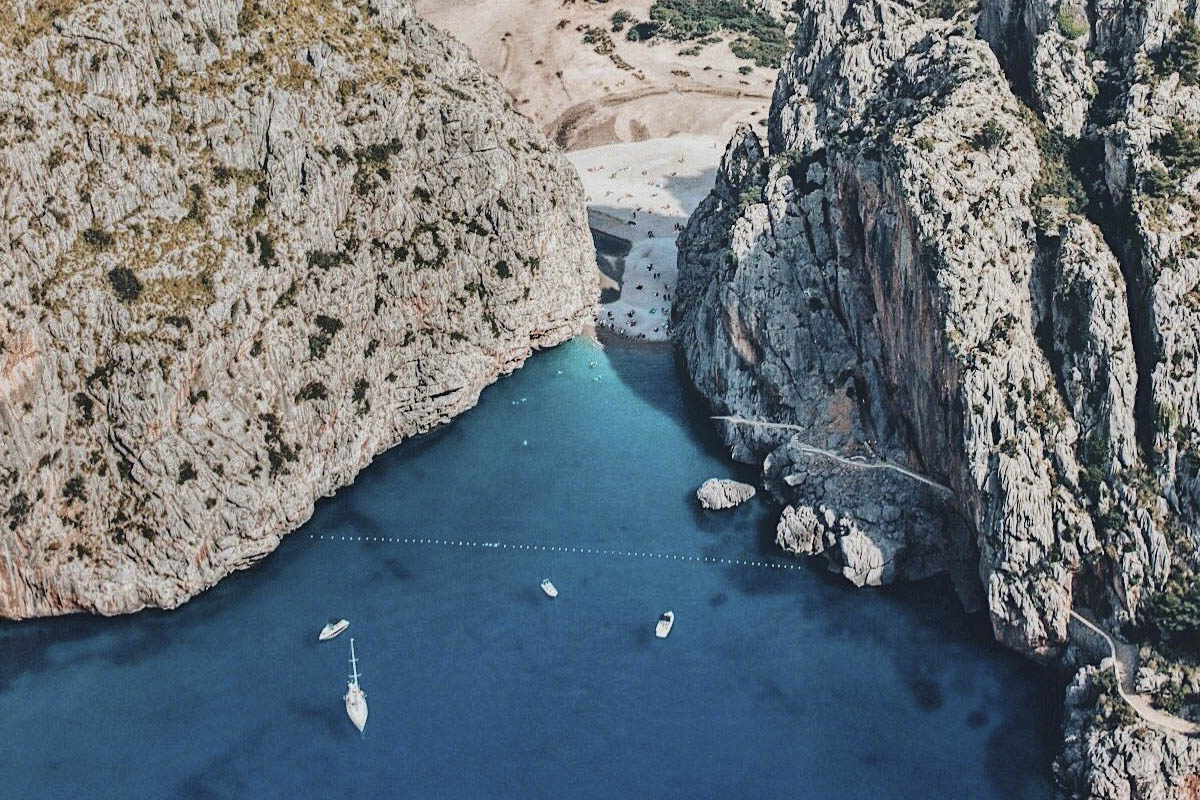 The descent towards the beach is an experience in and of itself, leading to a small fishing village that has retained its charm. The beach is reached through mysterious passageways hewn into the rock, which eventually open out onto an expanse of pebbles, sand and the bluest water you've ever seen.
We recommend getting there early, so you can enjoy the beach and the surrounding valley before it gets too busy, especially in the summer months. Please note that there aren't any amenities at the beach, so make sure to pack some food, drink and beach supplies.
Interesting fact: The beach can also be reached by foot via the Torrent de Pareis gorge walk, which is an advanced hike that takes between 3-5 hours.
A well-kept secret that wows with its secluded location – Caló d'es Moro
When you first lay eyes on Caló d'es Moro, you have to take a moment to compose yourself. Why? Because this beach is the holiday dream come to life. Think turquoise seas framed by rugged rocks and lush pines, where you're accompanied solely by the sound of lapping waves and the calls of seagulls.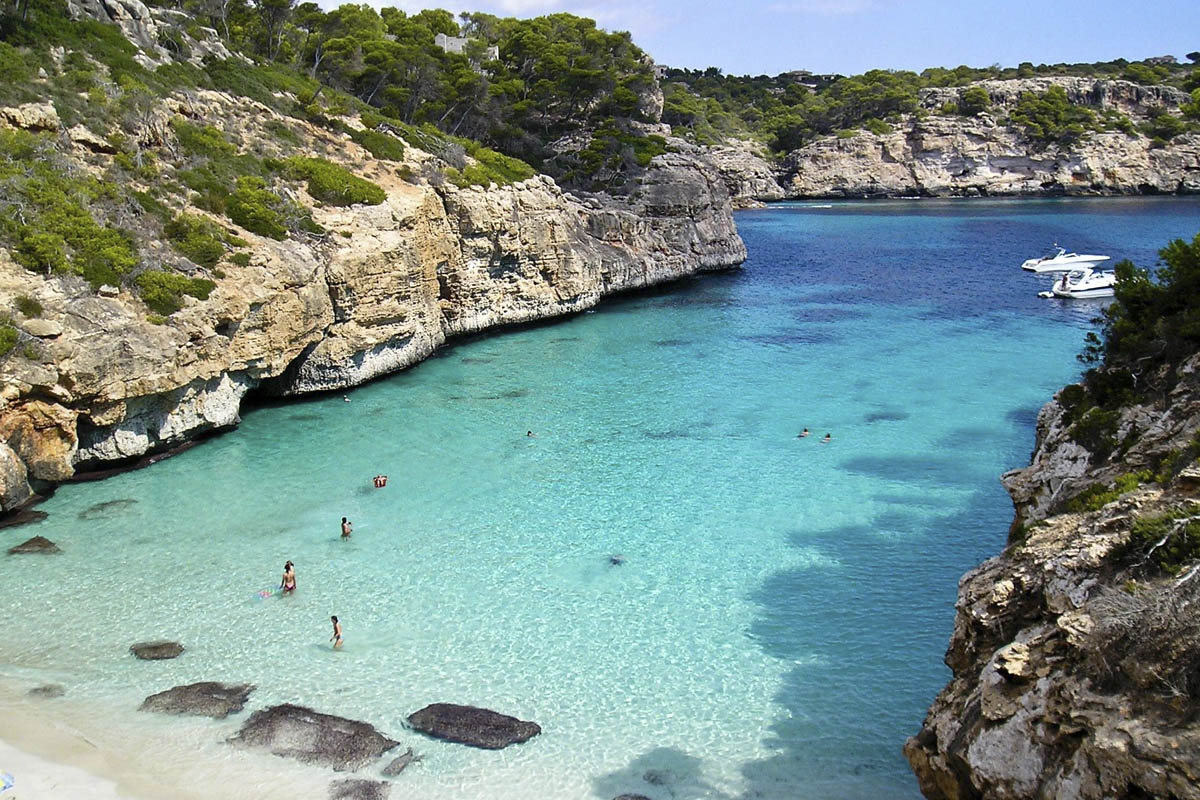 While it takes a bit of effort to walk down to the beach, we promise you it will be worth it. Another way to enjoy this bay is by boat. Make sure to bring your snorkelling equipment along, as the marine life here is equally fascinating.
A white sand haven that is aptly named – Cala Marmols
Cala Marmols does its name justice, boasting some of the whitest sands you'll ever encounter, framed by 20-meter-high cliffs that add some dramatic effect for good measure. One of the things we love most about this idyllic cove (apart from its beauty of course), is the seclusion. In fact, the easiest way to reach this beach is by boat. If you're set on walking to it, prepare for a challenging 5km trek from the Cap de Ses Salines.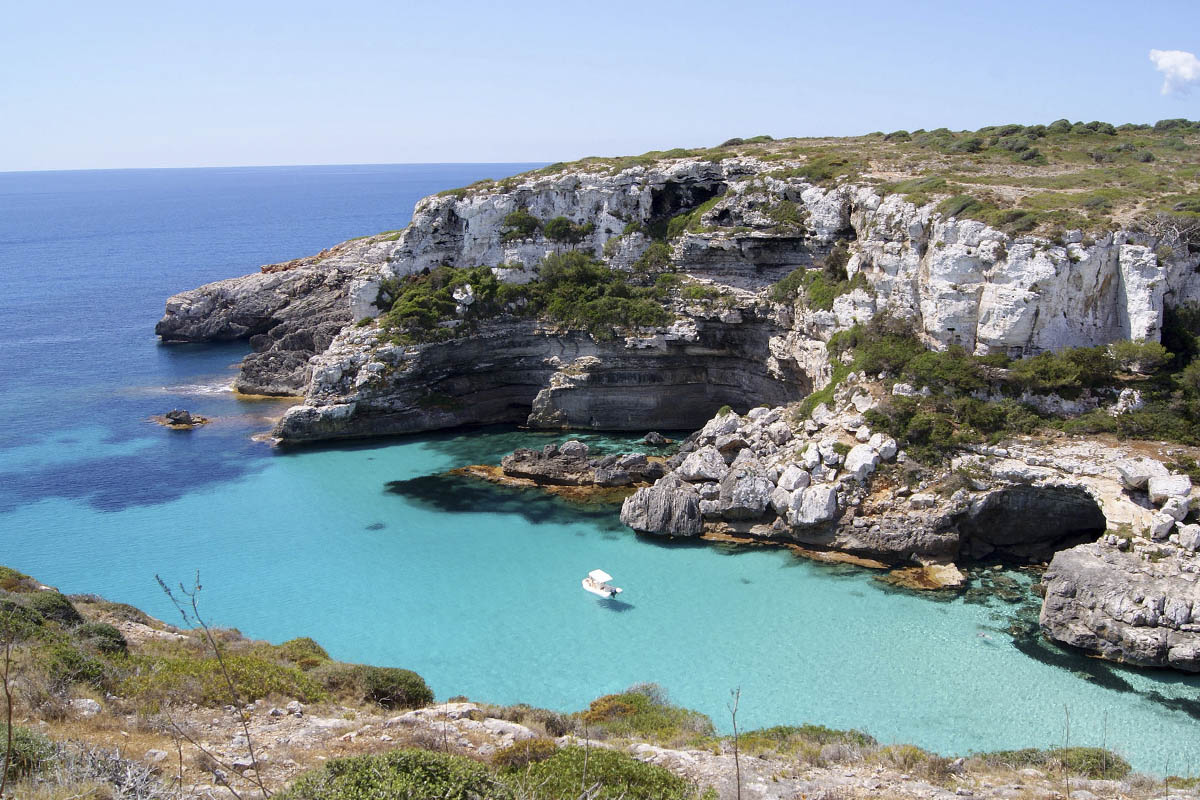 When you arrive at the beach, take your time to soak it all in, before grabbing your goggles and diving beneath the surface of these crystal-clear waters. You'll also be able to enjoy great views onto Cabrera island, just off the coast.
A tip: since this beach is so isolated, make sure you come prepared with all the necessary supplies.
Whichever cove you decide to visit, we'll be waiting to pamper you upon your return at Hotel Ca'n Bonico. Spend your afternoon relaxing in our gardens, before enjoying delicious food from our kitchen. We can't wait to see you this summer.