Did you know that Ses Salines means 'the salt pans'? The sleepy town and rural municipality where our hotel stands have been known for salt production since the 4th century when the area hosted an ancient Carthaginian settlement before being discovered by the Romans. Thanks to the ever-present seawater of the Mediterranean, this flat coastal stretch of land still has working salt mines and, just 8 minutes drive from our hotel, in the protected Salobrar wetlands, you'll find Salines d'es Trenc, which produces around 10,000 tonnes of salt per year.
Salines d'es Trenc
You've probably visited or seen pictures of Es Trenc, the sandy Caribbean-esque beach that runs for 3 kilometres along the southeastern coast, a 10-minute drive from our hotel. Beyond the dunes, maybe you've noticed the white mountains of salt at Salines d'es Trenc, a nature reserve supporting the ecosystem on the salt flats. The seawater travels along a conduction channel towards natural and human-made ponds, where it evaporates and salt crystallises with the help of the wind and sun. In the smaller ponds, 'flor de sal' is gathered manually, floral-shaped crystals enriched with over 80 minerals, a favourite seasoning of many renowned chefs and considered one of the purest types of salt.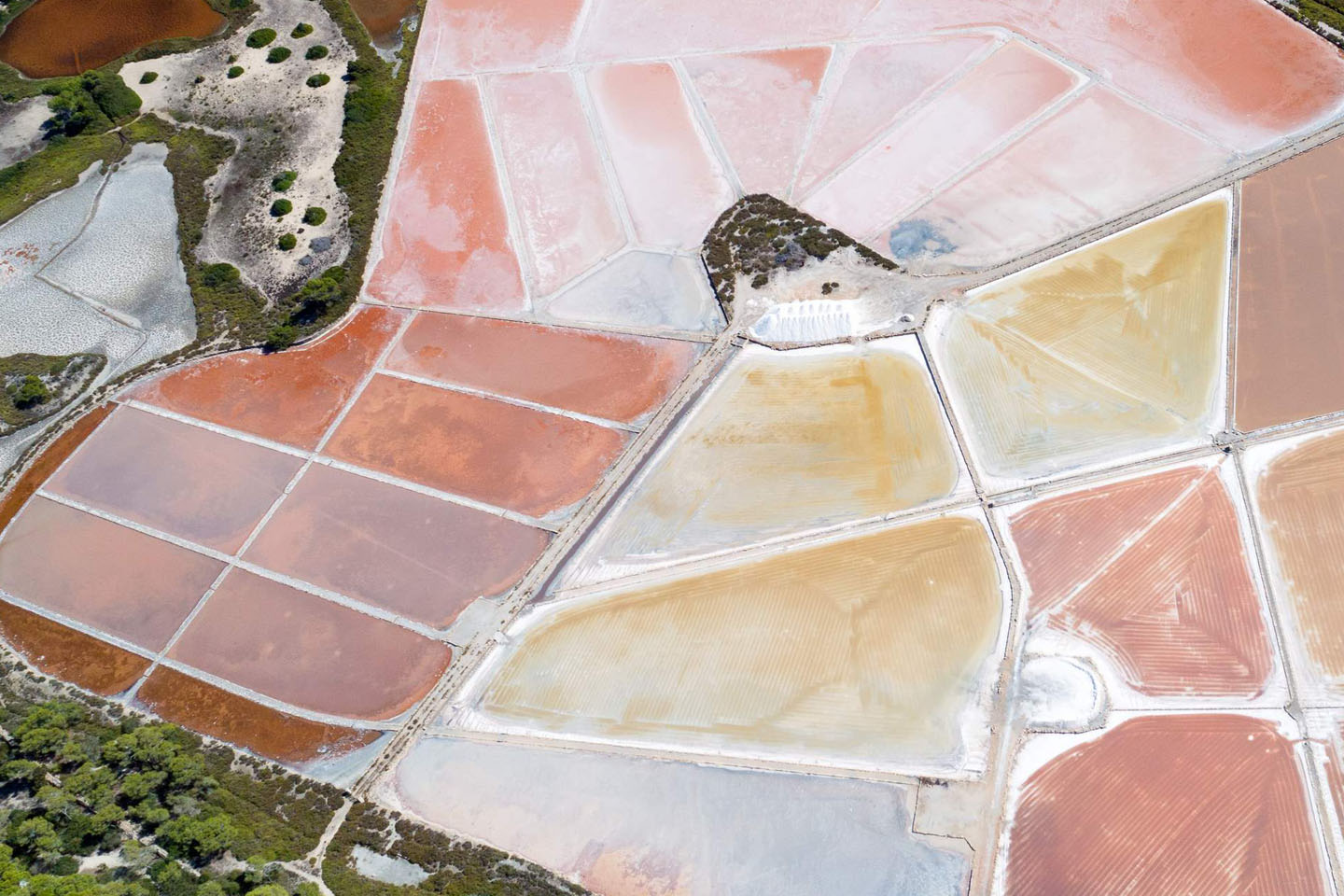 Salt: a precious commodity
Humans need sodium chloride to survive, so it's good that this age-old condiment forms naturally. The only edible rock consumed by humans contains many minerals needed by cells in our bodies. The salt produced at Salines d'es Trenc comes from the natural evaporation of seawater from the nearby beach, which crystallises due to the sun, wind, low humidity, and traditional salt-making techniques.
How salt is made and used on the island
The company, Salinas de Levante, SA, was founded more than fifty years ago in 1958 to produce sea salt across a surface area of more than 135 hectares. The system used here dates back to the Neolithic period, involving seawater travelling down a channel along horizontal platforms on the terrain. Different varieties of sea salt are produced at different times using various types of harvesting. An estimated 10,000 tonnes of salt are produced each year, consumed mainly across the island of Mallorca, used as a table condiment, for decalcifying water, tanning hides, and for making the traditional Mallorquín sausage, sobrasada.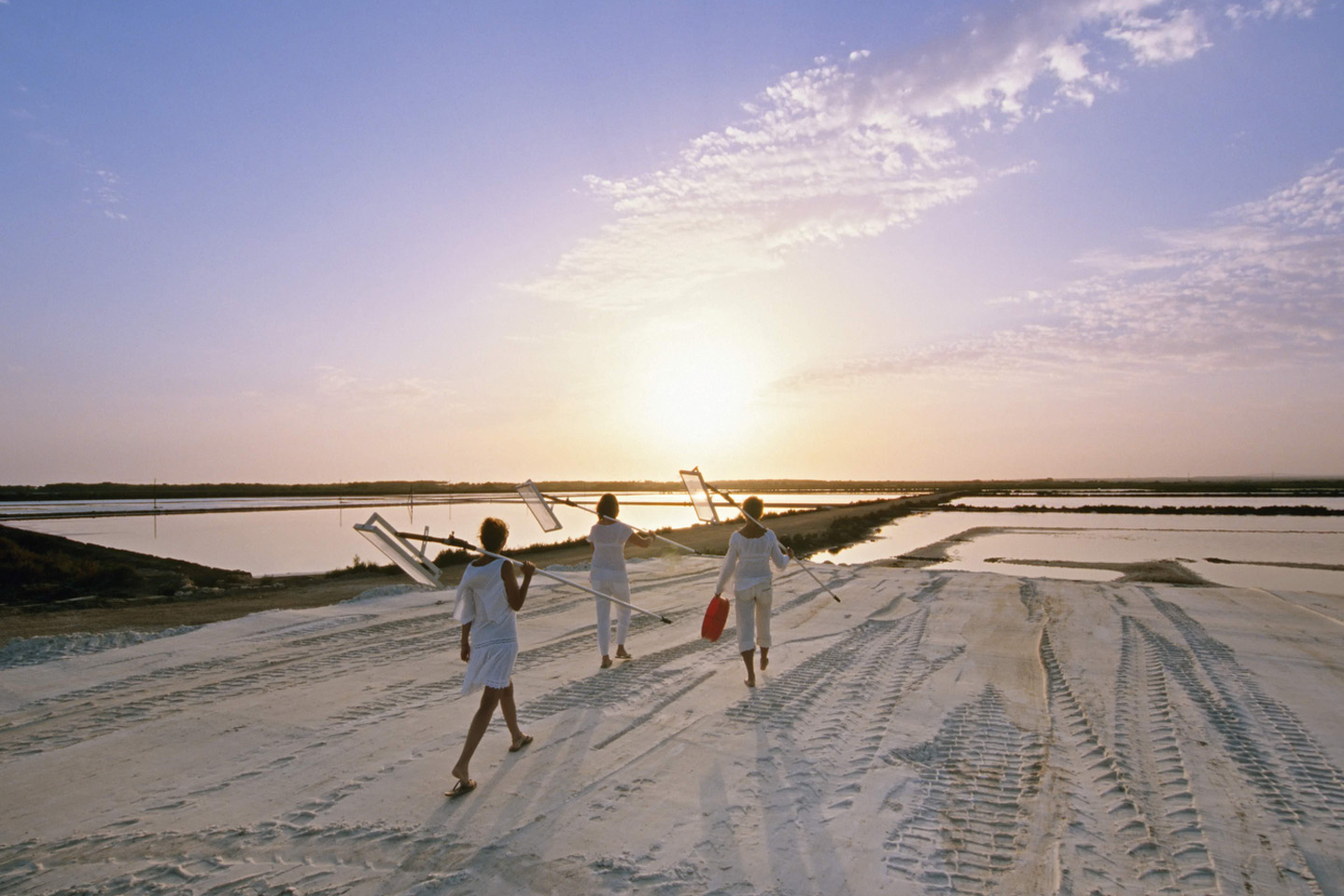 Birdwatching
It's not only humans who crave the salt produced at Salines d'es Trenc. 171 species of birds, from flamingos to cranes, love to feed and rest here during migration, making it a hotspot for birdwatchers and ornithologists to watch wading birds that live in the mud, pools and ponds alongside ducks, sandpipers, avocets, black-winged stilts and shelducks.
Guided Tours
The Es Trenc salt mines offer 45-minute tours every day of the week to explain the special process of salt production and share secrets about this valuable natural ecosystem. Visit the website for more information and to plan your visit. There is also a gift shop selling products, including Flor de Sal table salts taken from the basins of the salt pans with traditional rakes before being harvested, dried in the sun and packed by hand. The perfect gift and an essential addition to everyone's kitchen.
So, whether you are staying here in Ses Salines or would like to, we hope you visit these natural wonders here on the island of Mallorca. And we look forward to welcoming you to Hotel Ca'n Bonico, where you are close to Es Trenc, the flats and countless sandy beaches so you can experience the sparkling Mediterranean Sea first-hand.