Mallorca is, without a doubt, a paradise for both professional and amateur cyclists. The weather conditions, the varied terrain and the existing infrastructure to practice this sport are some of the reasons why this Mediterranean island attracts thousands of cyclists every year. Professional teams visit Mallorca during the winter to prepare for the season and amateur cyclists make the most of the scenic backdrops as they explore many of the wonderful cycling routes that are dotted around.
Hotel Ca'n Bonico, our boutique hotel in the south of Mallorca, is located in Ses Salines, a charming town surrounded by some of the most spectacular beaches in all of Mallorca and a natural setting like no other. One of the many perks of our location is our proximity to a wide variety of cycling routes that you can enjoy during your stay at our hotel throughout the year.
The best cycling routes in the south of Mallorca
Cycle route from Ses Salines to Es Caló d'es Moro
The route that runs along the path between Ses Salines and Es Caló d'es Moro is one of the most beautiful cycling routes on the island. The route is around 20 kilometers long and is classified as intermediate. The 'reward' that awaits you at your destination is Caló d'es Moro, one of the most impressive coves on the entire island, where rocks, sand and the sea create a spectacular postcard-worthy canvas. Hop-off your bike for a moment and enjoy it, recharging your battery before you head back.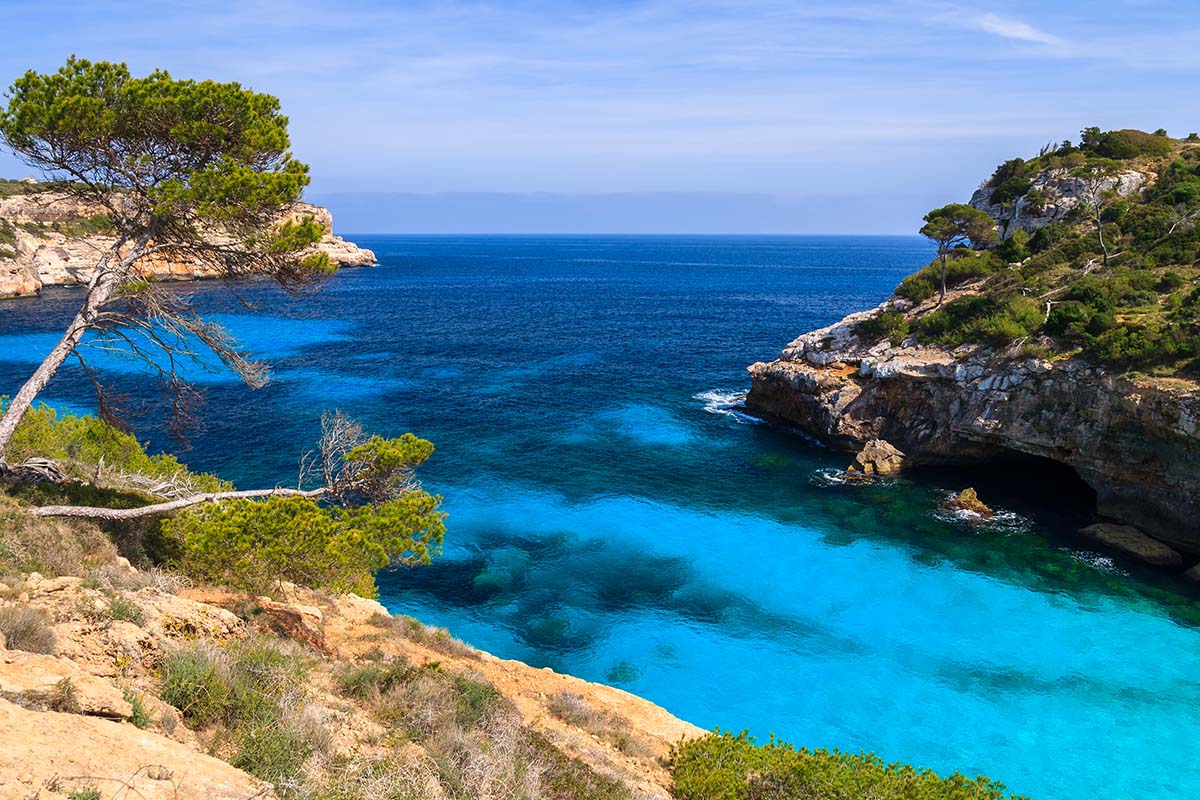 Cycle route from Ses Salines to Cala Figuera
The cycling route that runs from Ses Salines to Cala Figuera covers about 12 kilometers and should take around 35 minutes by bike. The best way to get there is by via the MA-6100 road, which is not very busy. Cala Figuera is a small fishing village with charming restaurants and cafés with large terraces that offer views of the vibrant Mediterranean waters. When you arrive, we recommend you sit down on one of the terraces, have a snack and soak up that laid back Mallorcan atmosphere.
Cycle route from Ses Salines to Cala Sa Nau
Our last recommended cycling route near Hotel Ca'n Bonico is the one that goes from Ses Salines to Cala Sa Nau. It is the longest route of the three recommended routes in this new blog post. The route covers 22 kilometers on the MA-4012 highway, which will take you more than 1 hour and 10 minutes. Cala Sa Nau is a prime example of why the beaches and coves of the southeast of Mallorca are so special. It is a small cove, about 50 meters wide and 70 meters deep, surrounded by impressive cliffs. Enjoy a cold beer at the beach bar before heading back to Ses Salines.
For more information about our recommended cycling routes or others that you want to know about, please do not hesitate to contact reception at Hotel Ca'n Bonico. We will be happy to help you!