If there is one thing we can say for sure about Mallorca, it's that the infinite beauty of its beaches and the colours of the sea wins over many hearts over the year. Every single one of our coves and beaches have their own special feel and are a rare combination of turquoise water, white sand and stunning mountains as a backdrop.
Hotel Ca'n Bonico is located in the authentic Majorcan town of Ses Salines, in Mallorca's Southeast and has some neighbour towns and villages that are well worth a visit, such as Es Llombards, Campos, Ses Salines and Colonia de Sant Jordi. All of these towns, including Ses Salines, are located in one of the most beautiful areas of Mallorca. And one of the most impressive jewels this area holds is the Natural Park of Cabrera.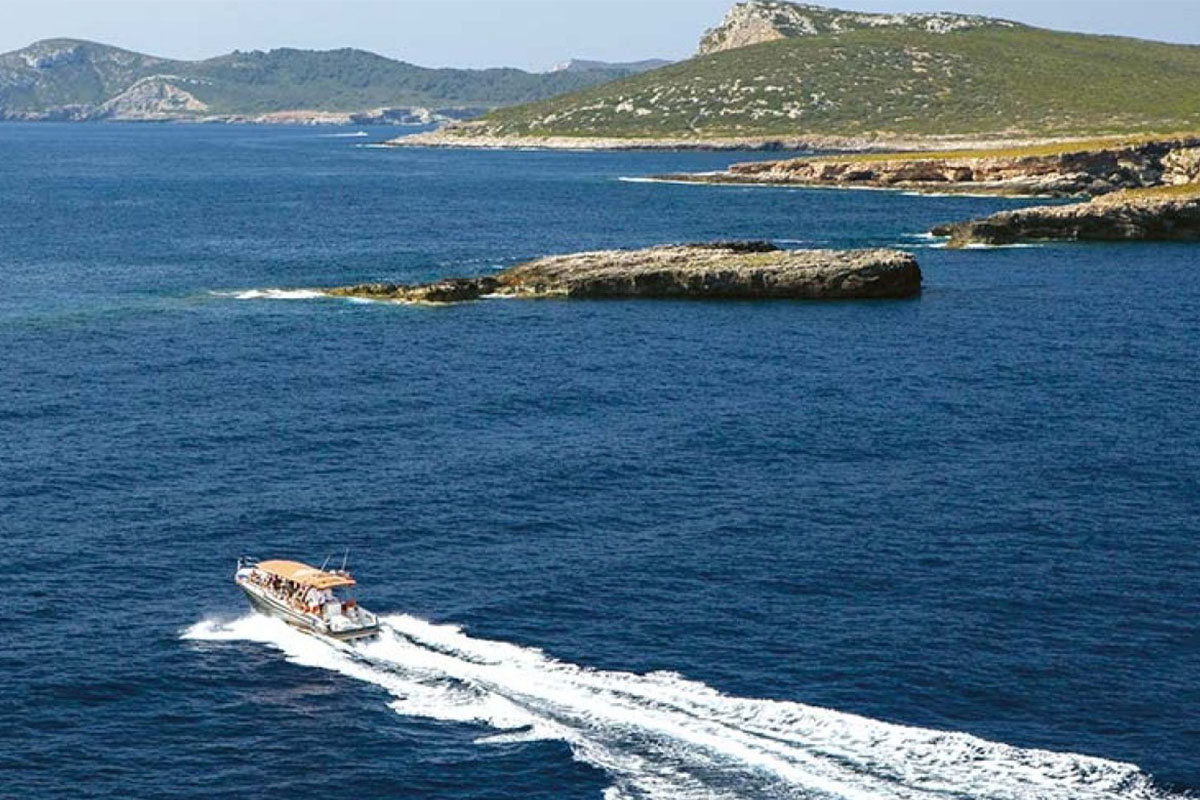 From Ca'n Bonico we would like to recommend you to spend one day on a boat trip and excursion to Cabrera. We are sure you'll love it!
The island of Cabrera owes its name to the mountain goats that inhabited it. After having been invaded by the main Mediterranean civilizations and having military presence for a long time, in 1991 Cabrera was declared a National Park.
There are two companies offering daily excursions to Cabrera from the port at Colonia De Sant Jordi, even though you can also rent a private boat to spend the day at this virgin island. Normally, but depending strongly on the sea conditions, the trip to Cabrera from Colonia de Sant Jordi takes about 30 to 40 minutes, as the island is about 11 miles away from the Southern coastline of Mallorca.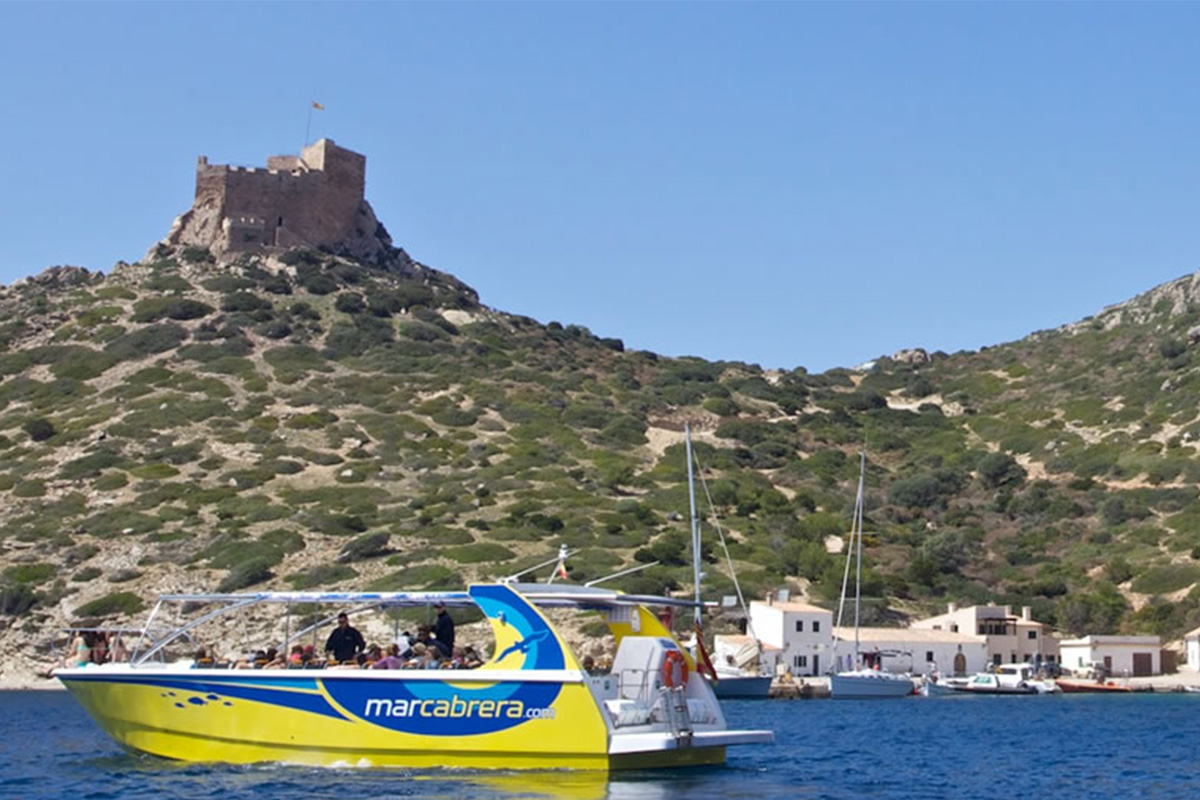 Before doing the first stop at 'Sa Cova Blava' you will be able to sale around the islets that form the 'archipelago de Cabrera' which are 'Na Foradada', 'Na pobre', 'Na Plana', 'L'esponja', 'Na Conillera' and 'Na Radona'. During this peaceful trip you can enjoy sunbathing or looking out for some interesting birds you didn't know and even salute some dolphin if you're lucky.
First stop as soon as you arrive to Cabrera is its incredible blue cove (there are only three blue coves in the Mediterranean). Visiting 'Sa Cova Blava' is a unique experience, because under the sunlight the cove seems to be painted with intense blue, which is almost artificial. After 'Sa Cova Blava' you will get to the natural port of Cabrera (in case you're visiting with a private boat you will have to request a buoy previously at http://www.magrama.gob.es/es/red-parques-nacionales/nuestros-parques/cabrera/ ) and then visit the beaches called Sa Platgeta, Platga d'Es Pagès and S'Empalmador.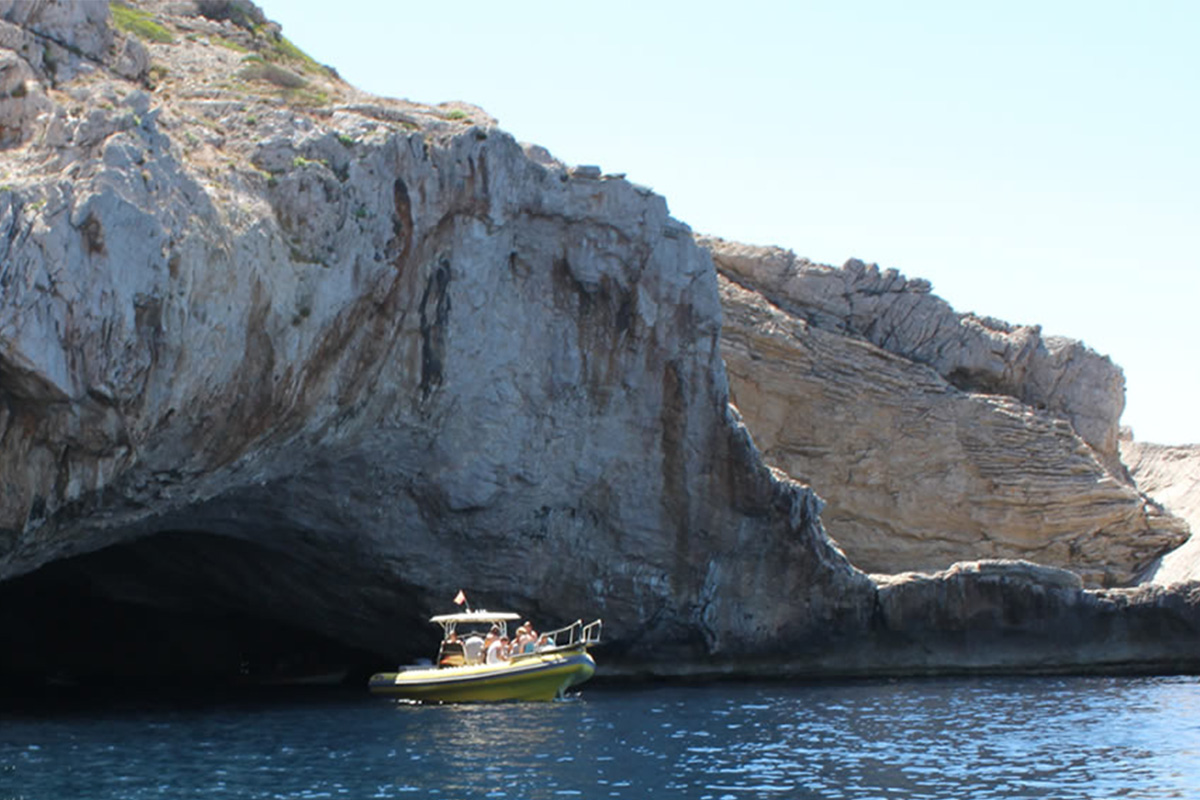 We recommend for you to disembark at the island to discover at least one of these itineraries: walk the road up to the castle of Cabrera, take the road to Ensiola lighthouse which ends on a beautiful cove or just stop by the only bar / café of the whole island at the harbour for a drink.
While enjoying your boat trip to Cabrera you can not forget about trying the star-activity on this trip which is snorkelling. With or without knowledge of this water sport, you just have to take a look at the sea bottom, because due to the dense meadow of oceanic Poisidonia which allows the proliferations of a great number of species, you will be taking a look at one of the richest marine fauna on the island, such as octopus, turtles and dolphins!