Summer time is meant to be enjoyed outdoors. There's nothing like a Majorcan summer evening to truly dive into the Mediterranean lifestyle, let time stand still and enjoy the moment. This is why we've decided to give you our selection of the best restaurants with a terrace in the area surrounding Hotel Ca'n Bonico. Let's go for dinner!
Restaurants with large terraces in Mallorca's Southeast
On the idyllic island of Mallorca, it is easy to fall in love with the Majorcan way of living. During the warmer months we tend to have dinner pretty late, as it is hot until late hours of the day. This is the reason why you'll see all the restaurant's terraces buzzing with laughter from 20h to 00h every day.
A nice al fresco dinner is exactly what you need to realize that you're most definitely on holidays! Continue reading if you'd like to hear our advice on where to go.
Restaurants with terraces in Ses Salines
Our hometown, Ses Salines, is a charming, little village in the south-eastern area of the island. Known for its tradition, Majorcan roots and being close to some of the most stunning beaches on the island, it is an absolute privilege to have our boutique hotel here. There are many places we love to have dinner at, but these two are our favourites.
Cassai in Ses Salines
Located inside a 300-hundred-year-old Majorcan house, Cassai has a beautiful rustic style courtyard decorated with wonderful taste. At this restaurant they offer a delicious fusion of traditional, Mediterranean cuisine with avant-garde cuisine. Definitely worth a visit!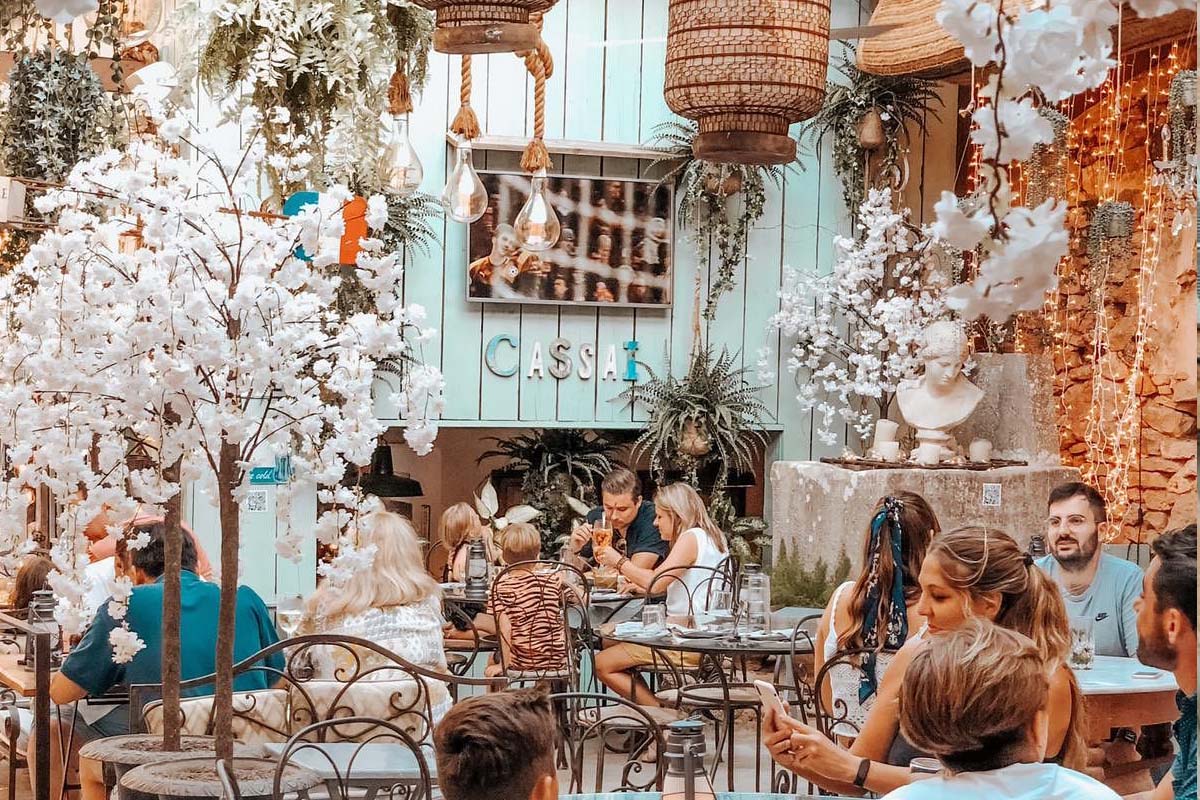 Casa Manolo in Ses Salines
Casa Manolo is our go-to restaurant for fresh fish and seafood. With decades of tradition, it is frequented by locals and visitors, being very busy during the summer season. Still led by the same family that started the business in 1945, one of its special features is its wine cellar, which you can visit on your own to choose your favourite wine.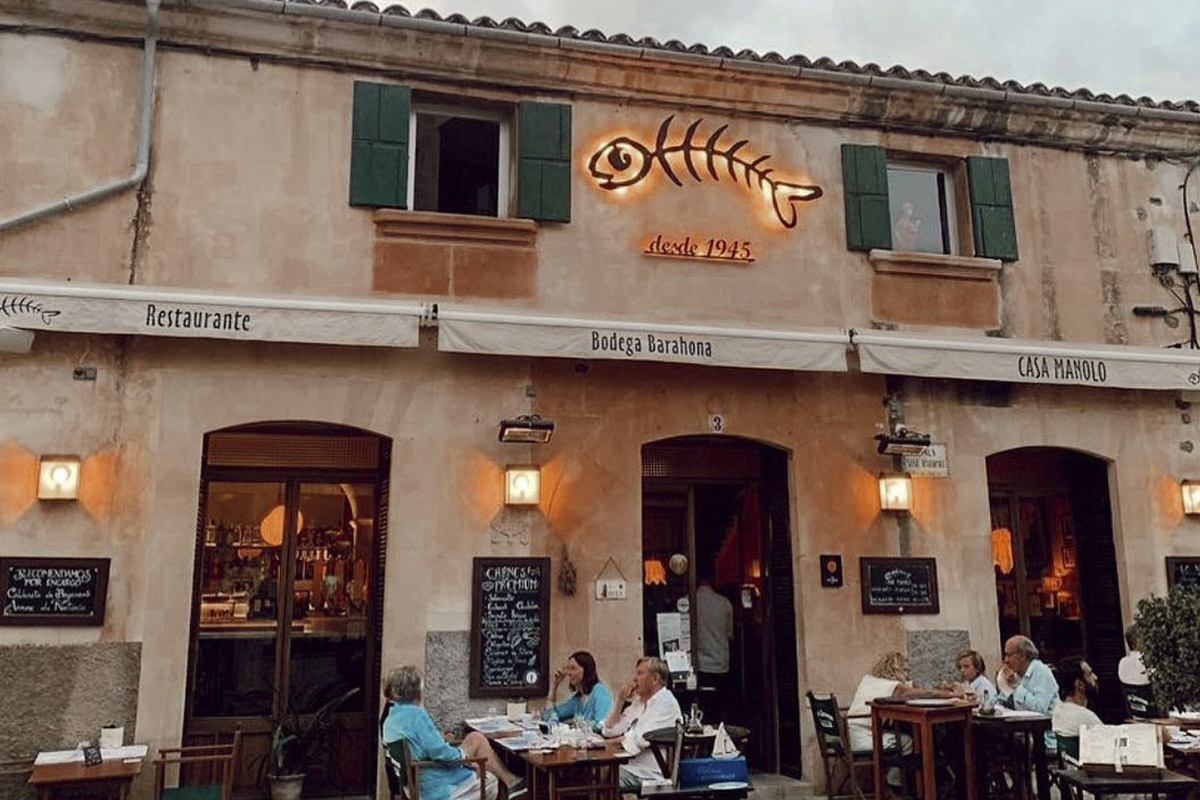 Restaurants with terraces in Colonia de Sant Jordi
Colonia de Sant Jordi is a laid-back port located about 10 minutes away from Ses Salines. Led by talented chef Marta Rosselló, you should most definitely try Sal de Coco and their tasting menu, showing off incredible cooking techniques and delicious, local flavours.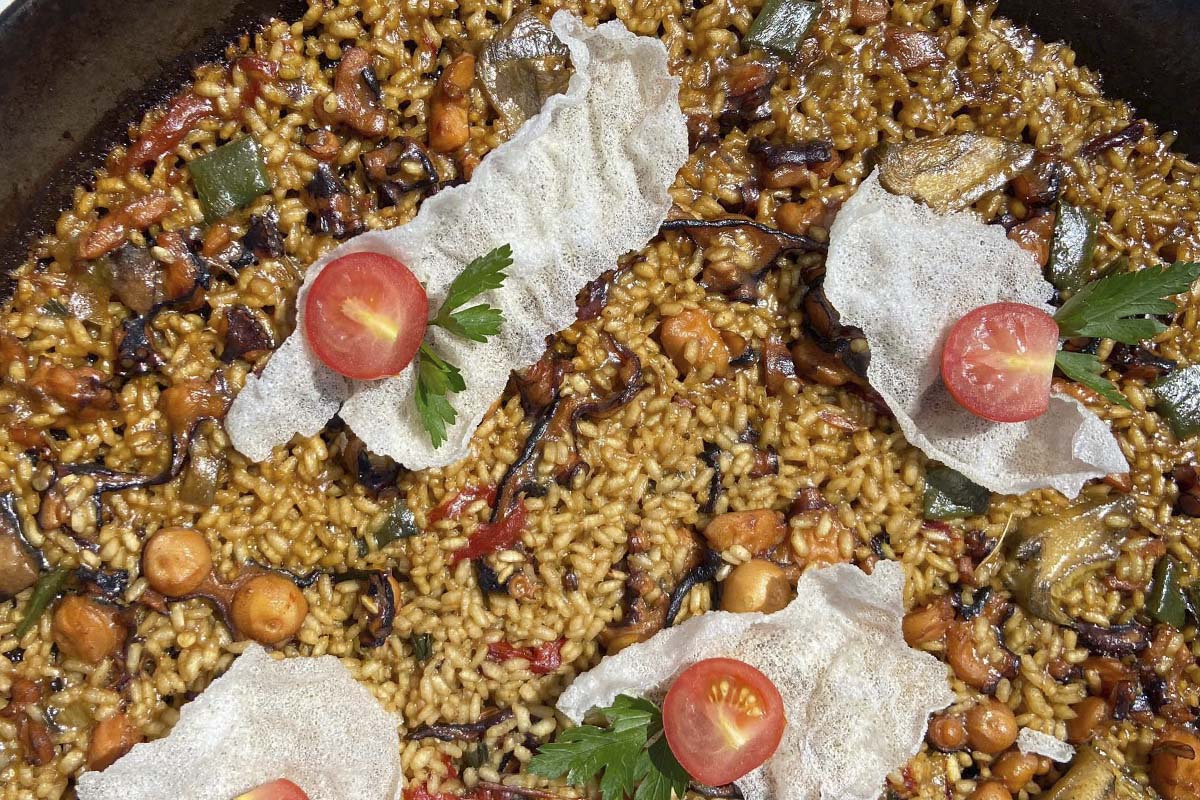 Restaurants with terraces in Santanyí
Santanyí is one of the most important towns in Mallorca's Southeast. And it also happens to be home to three of our favourite restaurants with terraces to enjoy summer.
Es Molí de Santanyí is a popular tapas restaurant located in a 300-year-old mill, offering you an authentic, Majorcan 'patio' for a lovely summer dinner. You can either choose from having a wide variety of tapas or share their bigger portions.
Also, in Santanyí you will bump into Es Cantonet, a place led by German chef Erik Eckfelder, who has been creatively combining his knowledge with Majorcan flavours and Mediterranean flair. They are strong on adapting their menu to seasonal products from the daily market.
Last, but not least, East 26 is also one of our favourite restaurants with a terrace in Mallorca's Southeast. A relaxed, sheltered patio invites you to have fish, meat or vegetarian/vegan options. Before or after your dinner, you can have a fantastic cocktail or glass of cava, while soaking up the atmosphere.
Dining at the beach close to Hotel Ca'n Bonico
We couldn't miss the opportunity to give you one last advice for summer dining: a dinner directly at the beach. If you'd like to go for the 'chiringuito' experience, there is one that is close to our hotel, that you should definitely add to your list. 5illes Beach is located at the beach 'Playa dels Estanys', serving paellas, fresh fish and other delicacies. Sunset cocktails are a must!